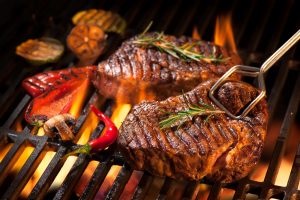 If you're a trucker looking for a great place to stop and eat while you're on the road, we've got a list for you. In part one of this series, we covered restaurants in the Eastern part of the US. Now, From diners in South Dakota to cafes in Nevada, we have compiled a list of the best places to grab a bite in the West:
Great Plains
1. Hays House (Council Grove, KS)
You can find Hays House on West Main Street. Sunday through Tuesday, the eatery closes at 3 p.m. The rest of the week, you can enjoy a delicious meal well into the evening. The restaurant is more than a 100 years old, making it one of the most historic buildings in the area. You can grab something to eat and listen to stories from locals about life in the quiet Great Plains.
2. Phillips Avenue Diner (Sioux Falls, SD)
Pull up to Phillips Avenue Diner and step back in time. The diner has fantastic ambiance to go along with its amazing food. Classic American dishes paired with a malt from the malt shop will make your day complete.
3. Big Dan's Steakhouse (Woodward, OK)
The owners of Big Dan's Steakhouse like to say, "First time a guest, from then on a friend," and that's exactly how you will feel. Facebook reviews highlight great customer service and even better food. From huge steaks to salads, you will find a hearty meal on this menu.
Rocky Mountains
1. Villa Basque Cafe (Carson City, NV)
The Villa Basque Cafe welcomes diners for breakfast or lunch, and prides itself on no one leaving hungry. Built with the values of integrity and hard work, the cafe serves up some amazing dishes. Try the famous chorizo if you are looking for a bit of something out of the everyday.
2. Beau Jo's Pizza (Idaho Springs and Other Locations, CO)
Have you ever heard of Colorado-style pizza? If you haven't, you will now and you may never look at pizza the same. Braided crust ensures that you can pile the toppings as high as you like without fear of them falling out. Free Wi-Fi means that you can have dinner and keep in touch with loved ones at the same time.
3. Steve's Cafe (Helena, MT and Meridian, ID)
Sometimes you don't want fancy; you want casual. Pop into Steve's Cafe (at either location) and enjoy a relaxing atmosphere and fantastic food. Serving breakfast and lunch, both restaurants are family owned and local. Unique meals like huckleberry stuffed toast and house-made sausages have made the cafes local favorites.
The Southwest
1. Leona General Store (Leona, TX)
Stop into the Leona General Store on Thursday night and enjoy some of the best catfish you've ever had. If you aren't in the mood for fish, wait until Friday or Saturday night and try a steak. If the owners are available, ask them about the history of the "store." It's a story you will love to hear.
2. Jambo Cafe (Santa Fe, NM)
Jambo Cafe has food like you've never tried before. Featured on "Diners, Drive-Ins and Dives" in 2013, the cafe serves African-Caribbean fusion that will have you wondering why you haven't been eating like this all your life. Be sure to grab a Jambo Cafe Cookbook on your way out (after paying for it of course) and try to duplicate some of the flavors in your own kitchen when you get home.
3. Filiberto's (Scottsdale, AZ)
Sometimes you just need a burrito. If you have a taste for Mexican and happen to be rolling through Scottsdale, make a stop at Filiberto's. Combination platters and bowls ensure that your belly will be full before you leave.
The Pacific
1. Arigato Sushi (Santa Barbara, CA)
Whether it will be your first time trying sushi or it's your favorite dish, be sure to pull into Arigato Sushi when you are traveling near Santa Barbara. From cold to hot items, a la carte sushi to entrees, you will be presented with an amazing choice of fresh seafood.
2. Paseo (Seattle, WA)
Locally-sourced ingredients are merged with flavors from the Caribbean in this amazing eatery in Seattle. Paseo serves up sandwiches today just like they did 20 years ago. They are a staple of the area — stop in and find out why.
3. Local Ocean Seafood (Newport, OR)
If you think you have had amazing seafood before, prepare to have your mind blown. If you've not been to Local Ocean Seafood in Newport, you don't know what you've been missing. The restaurant's mission is "To give people the best seafood experience of their lives," and they take that mission very seriously.
Other Restaurants of Note
1. Buffalo Jump Saloon & Steakhouse (Beulah, WY)
This steakhouse opens everyday at 4 p.m. Treat yourself to a western experience as you pull up a chair to the dinner table. Beef, buffalo, chicken and more dot the menu and provide diners with a fantastic choice of meals. Service is second-to-none and you will leave making plans to return.
2. R&R BBQ (Lehi and Other Locations, UT)
You want barbecue cooked right. You will find it at any one of R&R's locations in Utah. The owners of the restaurant compete in cookoffs and have been awarded grand champion nine times and reserve champions six times. Visit and find out why.
If you spend a lot of time on the road, you know the importance of having someone on your side. Reach out to us today about our semi-truck roadside assistance plans to see how we can have your back.