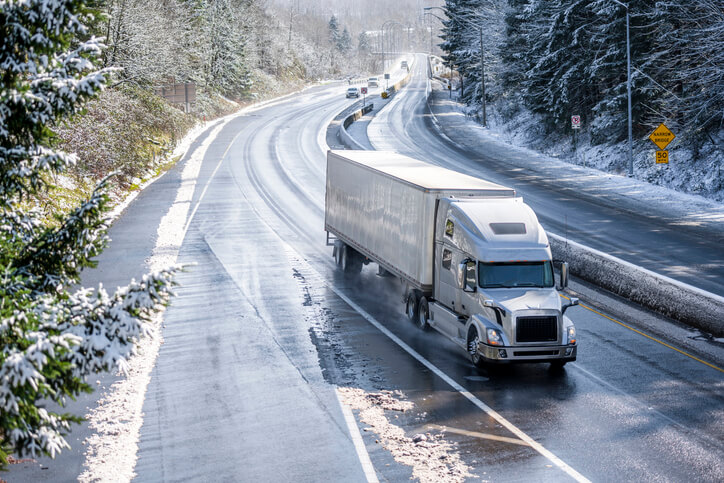 No matter where your fleet will be operating this winter, it's important to make sure your vehicles are prepped for the cold, wet weather that is promised to take over the country this year.
According to the American Trucking Associations' Technology & Maintenance Council, roadside failures rise by about 22% in the winter. For the most part, these failures were in exhaust and lighting systems. While it's virtually impossible to completely eliminate fleet maintenance in the winter, you can take steps to limit your maintenance costs.
Prepare Your Fleet for the Winter
One of the best ways you can prepare your fleet for winter is to look at your data from last year. Which systems were the most likely to fail? Was your regular maintenance schedule kept, even during the busy holiday season? Did your drivers have unsafe driving practices like hard braking? All of this data can inform your decisions for this year, such as taking a hard stance on scheduled maintenance.
Second, make sure your fleet is using the proper oil and fuel. If any truck will be driving through cold areas, they should be equipped with low-viscosity oil. These oils will be marked with a "W" for winter. You should also be using a winter-blend diesel, as the paraffin wax in regular diesel can gunk up your fleet's engines. Make sure your drivers look for a low CFPP, or "cold filter plugging point" (the lowest temperature at which the fuel will still pass through filters).
It's not just gunky oil and fuel that can disrupt your fleet's systems. Ice can obstruct filters and prevent engines from operating properly — or even starting. Remind your drivers to check their fuel filters for any signs of ice or gel buildup. Ice can be dissipated with engine heat before the driver hits the road, but gel buildup should be eliminated with an emergency reliquefier.
Finally, if you want to avoid excess roadside maintenance calls this season, make sure your drivers are checking all internal components before driving. This includes checking for:
Leaky batteries
Cracked belts and hoses
Malfunctioning fans, windshield wipers and air conditioners
And other components that may malfunction, especially based on data from previous years. If there are faulty components, even a belt that looks like it's weakening or starting to crack, it should be repaired or replaced immediately. Otherwise, your fleet drivers could find themselves stranded and waiting for emergency roadside repair. With the issues that can go wrong with fuel, hoses, and other interconnected components, one component failing could lead to a domino effect in the winter — leading to higher roadside maintenance costs.
What to Look For in a Commercial Roadside Assistance Program
No matter how diligent you are, there will always be the risk that your fleet drivers will need emergency roadside assistance. That's why it's important to make sure you have a commercial roadside assistance provider you know you can call at any time to get your vehicles back on the road. There are a few criteria you should consider when choosing a roadside assistance provider, including:
Plans that are customizable to your fleet and include the services you need
A network that provides assistance where you operate
Price that fits within your budget with no surprise costs
Ease of getting in touch with a commercial roadside assistance professional
At Encore Protection, we offer commercial roadside assistance for all types and sizes of fleets, whether you have a few vans for local deliveries or you have dozens of semi-trucks that drive across the country. If you need protection for your fleet this winter, give us a call at 1-844-6ENCORE or contact us online for a free, customized quote.