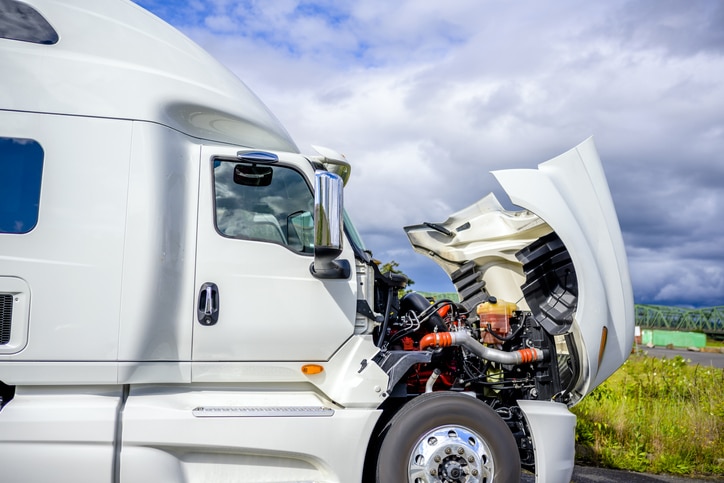 When purchasing a heavy-duty vehicle, owner operators and fleet managers have many decisions to make. One of these decisions includes the purchase of an extended warranty. If you want to protect yourself from insanely expensive repair costs down the road, then purchasing a service contract (extended warranty) may be your best bet. So, what should you do? This week we dive into the benefits/drawbacks of purchasing extended warranties.
In this article you will learn:
What is an OEM?
What is a service contract? (Extended Warranty)
What is the difference between an OEM and a service contract?
What are the benefits and drawbacks of a service contract?
Should you purchase a service contract?
What is included in coverage?
What parts usually break down or fail?
Best practices if you decide not to cover your vehicle with a service contract.
What is an OEM?
OEM, also known as Original Equipment Manufacturer's warranty, is a promise from the manufacturer that certain products are protected from breakdown over a certain time or over a period of miles driven. Usually, these costly items do not have a habit of breaking down during these set time periods. OEM's are also included in the purchase of your heavy-duty vehicle from the dealership. These warranties are also transferrable to new ownership if the vehicle is still within the time and distance guidelines.
What is a Service Contract?
A service contract is a business agreement between a contractor and customer covering the maintenance and servicing of equipment over a specified period. Service contracts are often called "Extended Warranties," but service contracts (unlike extended warranties) cost extra out of pocket costs in the form of a monthly charge. More often than not, when you are purchasing something that claims to be an extended warranty, you are most likely purchasing a service contract from a third party. These agreements usually pick up after your OEM is no longer valid.  
What is the Difference Between OEM and Service Contracts?
As stated above, OEMs come with the purchase of your vehicle and are of no extra cost to you. Most manufacturers feel comfortable providing these warranties because they have tested their products. They are betting that their products won't fail within the allotted time or usage period. Of course, the products should last longer than the time frame provided by the OEM if the owner practices routine vehicle maintenance. Most OEMs come with stipulations, for example, if a product fails under the manufacturer's warranty, but it was due to negligence of the vehicle owner, then the OEM can become invalid. Be sure to read all the stipulations stated in your OEM and vehicle user's manual so you understand what is required. Routine maintenance usually includes: Oil changes, tire rotations, belt replacement, fluid checks, brake pads, and overall vehicle inspections.
Service contracts act as an extra security blanket for protecting products inside your vehicle for a longer period than your OEM. You have out of pocket costs to cover these products (usually on a monthly or yearly basis), but the importance of a service contract is an obvious one when you consider the usual time frame for these products to fail or breakdown. Considering the average cost of repairs for semi-trucks is around $0.23/mile (Page 30, industry Repair and Maintenance Averages) , these contracts can save your company tons of out of pocket costs due to repairs. If you are an owner operator, you are most likely using older vehicles which will increase these industry averages by a significant amount. Its important to remember that some them also come with a deductible as well as a monthly/yearly fee.
Should you Purchase a Service Contract?
If you are contemplating the purchase of a service contract for your heavy-duty vehicle, you should take multiple factors into consideration. Here is a list of questions to ask yourself.
How many vehicles do I own?
The number of vehicles you own can make a difference in determining the benefits to purchasing one of these agreements. If you manage a small fleet or you are an owner operator, you may not have enough funds in reserves to handle a large repair to your heavy-duty vehicle. Some vehicle repairs can bankrupt a smaller organization.
What is the average age of my vehicle(s)?
Vehicle age matters! If your fleet is running with older models, then the odds of an extensive repair could be waiting just around the corner.
How many miles do I drive annually?
Considering class 8 vehicles drive an average of 60,000+ miles per year, your vehicle maintenance repairs are going to increase the more you drive. If you are not putting extensive miles on your vehicle every year, then the need for allocating costs for repairs decreases. You will still need to protect your vehicle in the event of a breakdown, but if you don't drive very long distances regularly, then your OEM could stay valid for a longer time period and the need for an alternative can wait.
What do I spend on repairs per vehicle?
After crunching the numbers for annual repair costs, how much are you spending? Is it a significant amount? If you divided that number by 12 to figure our monthly costs, would a service contract fee be less than your overall expenses for repairs? Usually the answer is yes.
How much cash do I have on hand to pay for repairs?
Are you actively putting money in reserves to prepare for costly repairs? Whether you are a large fleet or small owner operator, if you have the funds to allocate for repairs and your vehicles are newer, you could possibly get away with building an emergency fund on your own.
Do I usually drive in extreme hot or cold conditions?
Vehicles driven in harsh conditions will increase the chances of equipment malfunction and failure. Extreme hot and cold conditions need to be taken into consideration.
How often am I routinely maintaining my vehicles?
Do you have service providers that routinely maintain your vehicle(s) so you know exactly what is going on under the hood at all times? Routine maintenance is not only a benefit to your expenses at the end of the year, but also required by the FMCSA.
What is Usually Covered in a Service Contract?
There are multiple routes you can take when purchasing service contracts. You could purchase one that covers Powertrain options and/or Drivetrain options. All third-party agreements can have different coverages and terms so be sure to read everything in the fine print to know exactly what is covered and what is not. Usually, a powertrain option covers everything that makes the vehicle move. While a drivetrain option covers most items that come after the engine (transmission, driveshaft, axles, wheels, etc). Knowing how you use your vehicle and all the questions you should be asking yourself from the paragraph above will determine what options are best for you when deciding to purchase a service contract for your heavy-duty vehicle.
Extended drivetrain warranties can cover the following:
Transmission
Axle shafts
Constant velocity joints
Axle seals
Axle housing
Gears
Sprockets
Transfer case
U joints
Chains
Seals
Gaskets
Be sure to read up on when your OEM is due to expire because you don't want your added coverage to overlap with your manufacturer's warranty. Usually, third party providers will make sure coverage starts after the manufacturer's warranty expires, but not all companies are created equal and to protect your bottom line, you should do the research on your own.
Which parts usually breakdown or fail?
We have put together a list of common engine parts that breakdown to give you an idea of what you could be protecting yourself against.
Common repairs in Heavy-duty vehicles:
Engine Overheating
Starter Failure
Failure of U-Joint
Brake fluid leaks and failures
Wheel bearings
Clutch
Tires
Brake Pads
Electrical
Usually, a service contract will not cover the cost of items that fail due to "normal wear and tear." Items such as brake pads, clutch, and tires. In the event you wish to protect yourself from added costs to replace these items during a roadside breakdown, then you should consider purchasing from a commercial roadside assistance provider like Encore Protection, which will pay for the labor of replacing some of these items in an emergency.
Best Practices to Cover your Costs without purchasing a Service Contract
Not many organizations can allocate the funds for costly repairs in the event an engine or transmission failure. These types of costs can be upwards of $1,500 just for the replacement part, let alone complete engine or transmission rebuilds with added labor on top. The best way to allocate funds on your own is to figure out your average cost of repairs per mile. This method is very useful because you can predict how much you will need to spend based on your vehicle usage. Industry averages state that $0.23/mile should be allocated for maintenance and repair costs. If you are travelling 5,000 miles in a month, then your funds allocated for these expenses should equate to $1,150.00/month. (Miles driven) X (industry avg repair cost) = total allocated funds for repairs.
If you have been in business for quite some time and have your own data to use for allocating funds, then this method will give you a more accurate number needed to have in reserves. Simply replace the "industry average repair cost" per mile driven with how much you actually spend on repairs. For example, say you have one semi-truck (that is newer and in decent working condition) in your operation that travels 40,000 miles per year. Over that year you spent $6,000 on common repairs.
Vehicle Miles travelled: 40,000/year
Repair costs: $6,000/year
(6,000) / (40,000) = $.15 per mile in repair costs.
It is a great idea to break the numbers down on a yearly basis to track upcoming expenses. If you notice that during your first year of driving your vehicle that you spent half the amount of repairs than you did in year two, then it may be a good idea to consider purchasing a service contract because you can physically track you vehicles repairs increasing over time.
Summary of Considerations for Purchasing a Service Contract
Cost of the service contract in conjunction with your total cost of repairs (don't forget deductibles)
What types of problems and repairs are covered
What types of problems and repairs are not covered
How long will the service contract last?
Does the service contract overlap with OEM time frames?
How you use your vehicle and in what condition is its current state?
Just remember that whatever choice you make, the most important thing you can do is your own research and read everything that is offered to you. Ultimately, it depends on what type of organization you are running and how much you can allocate on your own versus purchasing a third party service contract.