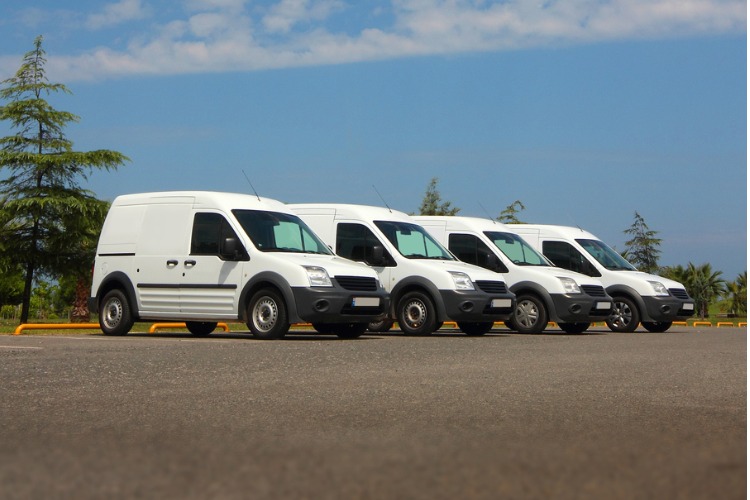 When you're part of a small business, owning and operating a fleet of business vehicles can be especially tough. Not only do you have the same concerns as a corporate fleet manager, but you are also likely dealing with more responsibilities than just the fleet alone.
"In a smaller fleet, the fleet manager has to wear quite a few more hats," a fleet superintendent for the City of La Verne, CA named Dave Johnson told the Government Fleet website. "I think that the fact that we have to handle more things could actually create more headaches."
Small business fleet managers also have fewer resources to fall back on when they do encounter troubles. There's likely not going to be a policy handbook they can quote when trying to decide whether to repair or replace an older broken vehicle. They might not have an HR department to handle disciplining drivers who get tickets on their routes. If a vehicle breaks down on the job and they don't have a small business roadside assistance plan, then they may have to send out another employee and pay full price for a tow truck.
With these challenges in mind, we thought it might benefit small business fleet managers to know that they're not alone in their struggles. Here are the five challenges for small business fleets we hear most often:
Cumulative Fuel Costs
Gas prices have been mercifully low recently, but that brings it own set of problems. Human nature dictates that when gas gets expensive, people try to drive less often and consume as little fuel as possible. Some trips are unavoidable, but even then the driver may back off the accelerator or use the most direct route possible.
So what happens when gas prices are relatively cheap like they are now? People drive more, and they tend to be more wasteful when they drive. According to NPR, Americans drove a record-breaking 3.1 trillion miles in 2015, when gas prices were at or below $2 a gallon. It's a significant jump from '07 – '12 numbers when prices were still high and the economy was tight.
Drivers need to understand the consequences of every decision, including how they drive, how many stops they make, and whether they plan trips according to efficient routes.
Fleet managers must also strive to use the most fuel-efficient vehicles available for their business needs. Gas may be cheap now, but that won't last forever.
Driver Safety
Driver safety has a number of different requirements with one simple goal: avoiding accidents. Accidents cause premiums to go up and can result in uninsured losses. Injured employees miss work and may end up filing under worker's compensation. Plus, small businesses obviously want to see everyone happy and healthy and out of the hospital.
Small fleets, in particular, have two major safety risks: aggressive driving and drowsy driving.
Employees who take too many risks while driving are more likely to get into an accident. Since you can't be in the car with them on every trip, the only ways to prevent this behavior are to:
Look for a clean driving record during the hiring process
Emphasize the importance of safe driving
Incentivize safe driving by rewarding employees for perfect records
Enforce strict policies on citations, accidents, and bad behavior
Install onboard telematics to monitor speed, braking, and other factors
Drowsy driving is another major problem in the business world. 40% of people don't get the recommended amount of sleep hours, according to a Gallup poll. Further research shows that employees are more than twice as likely to make workplace mistakes if they are sleep deprived.
Small businesses sometimes encourage long "off the clock" hours, so make sure to check in with employees and ask what time they get to sleep at night. If lack of sleep seems to be a constant problem with staff, consider strictly limiting work duties after five or introducing sporadic days off to let people catch up on rest.
Holding Drivers Accountable
Small businesses need firm policies to enforce good driving behaviors. Fleet managers can institute "zero tolerance" or "three strikes" rules to revoke on-the-road privileges. More forgiving policies can focus on driver performance reviews, with rewards for good drivers — and penalties, including possible severance, for repeat offenders.
Fleet Maintenance
How do you fix fleets without feeling fleeced? The answer to that tongue twister confounds many small business fleet owners. Your best option is to have as much maintenance performed under warranty as possible.
You can also set up maintenance plans, but make sure the benefits justify the costs over the long term. Having a predictable maintenance cost is definitely beneficial, but you don't want to work with a provider who pockets most of your money and refuses to reimburse typical repairs.
Overall, each small business fleet owner must make long-term maintenance decisions on a case-by-case basis depending on their fleet's vehicles, those vehicles' age, their budget, and the availability of reliable mechanics in their area.
Fleet Roadside Assistance Protection
One vehicle breakdown can send a small business to a screeching halt. Someone likely needs to go pick up the employee, and someone needs to call a tow truck. Even if the problem is minor, like a vehicle has a dead battery, then your business can become disrupted if there's no backup plan in place. One incident creates a cascade of delays, and customers may be unhappy as a result.
Luckily, small business fleet managers have one great option for dealing with this risk: they can enroll in a customized small fleet roadside assistance program. These programs give you peace of mind and can provide assistance when you need it most. Whether you just need a jump, some gas, or emergency roadside assistance and towing, there's a plan out there that can fit your small business' needs.
Learn how to stand behind your employees, protect your fleet, and save money when you contact us for a free consultation and quote today.