Encore Protection has partnered with Stanley Steemer to provide you our exclusive roadside assistance program for commercial vehicles. With our partnership, you now get to take advantage of pricing only offered to large commercial fleets. All of the benefits and services of your Encore Protection membership are available 24 hours a day, 7 days a week, 365 days a year throughout the United States, Canada, Puerto Rico, Mexico and the U.S. Virgin Islands.
Yearly Motor Club Program
With our Motor Club option, you will pay a one-time premium of $59.99 that will cover the following services on an unlimited basis for an entire year:
Unlimited Claims
25 Miles of Towing
Emergency fluid and fuel delivery
Tire changes
Extrication and Winching
Dead battery jump service
Emergency locksmith service
Travel Discounts
Car & RV Rental Discount Program
Flat Rate Pay-Per-Incident Program
Our Flat Rate Pay-Per-Incident program allows you to take advantage of our big fleet discounts, and you are only invoiced if and when you use our services. This will also allow you to budget around roadside assistance claims throughout your fiscal year.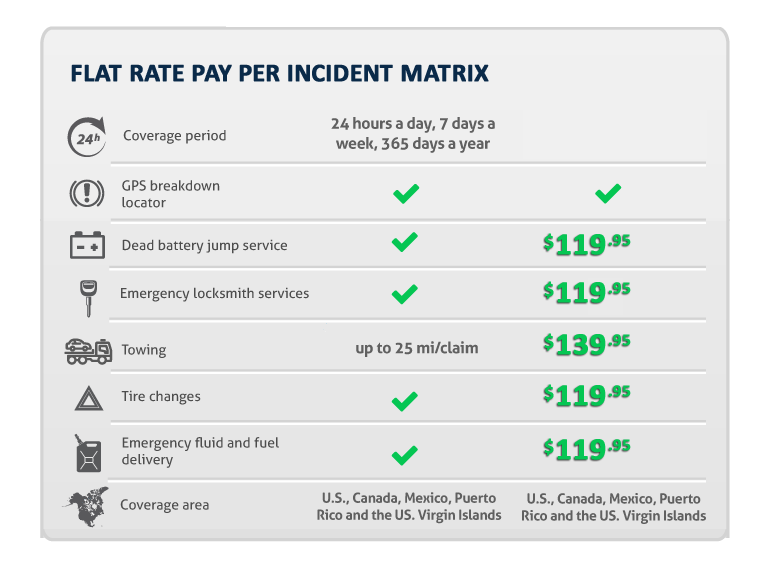 Please contact your dedicated Stanley Steemer Encore Protection representative by using the form below.